Uber & Lyft Service Center
Exclusive savings and benefits for rideshare drivers.
assignment
Repairs & Maintenance
Receive 15% off all repairs and maintenance, including oil changes and more (excludes tires).
build
4-Wheel Alignments
Prolong the life of your tires and improve vehicle stability with 50% off 4-wheel alignments.
directions_car
Interior/Exterior Details
Give your vehicle a deep clean with 30% off interior/exterior details.
local_car_wash
Car Wash & Vacuum
Enjoy a complimentary weekly car wash and vacuum to keep your vehicle looking tidy.
rotate_right
Tire Rotations
Take advantage of free tire rotations on any tires purchased from Nalley Toyota of Roswell.
schedule
Schedule Online
Schedule your appointment online and enjoy top priority to get your vehicle back on the road.
Your best choice for automotive care.
At Nalley Toyota of Roswell, we understand that a well-running vehicle is essential for rideshare drivers. That's why our service center created a savings program developed exclusively for Uber and Lyft drivers. As a Lyft & Uber Driver Platinum Service Member, you'll enjoy savings across many automotive services and repairs including oil changes, brakes, alignment, tire rotations, and more. Plus, stop by for a complimentary weekly car wash and vacuum to keep your car looking tidy for your passengers. For a more thorough cleaning, your membership also includes discounts on interior and exterior details. We aim to be the preferred choice for all your automotive needs, offering exceptional service at an affordable price.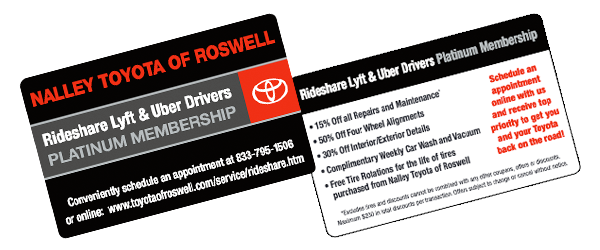 Becoming a member is easy. Let's great started!
To become a Lyft & Uber Driver Platinum Service Member, stop by Nalley Toyota of Roswell and show your service advisor proof of employment from Uber or Lyft. Your advisor will then give you a membership card and keychain card to carry with you. When you visit our service center, simply show your card or keychain to take advantage of the great savings and benefits associated with your membership. For added convenience, you can schedule your appointment online and receive top priority to get you and your vehicle back on the road. Membership to our rideshare service program is available at no cost for Uber and Lyft drivers of all vehicle makes and models. Please note that makes other than Toyota will require a service appointment to be made in advance. This allows us to ensure we have the proper parts in-stock for your vehicle when you arrive.
Have questions? Don't hesitate to stop by or give us a call at 770-763-7398 to speak to an advisor!
Learn More About The Program